Minimize your energy waste while maximizing your home's comfort—no matter what the weather brings.
There are plenty of great things about living in Chicagoland—but paying high energy bills and staying comfortable at home year round isn't exactly easy.
Luckily, with a huge wave of local momentum toward energy efficiency in Chicago comes plenty of ways for you to cut energy waste and make your house as efficient and comfortable as possible. (Fact: The biggest energy wasters in your home are also usually the same culprits that create comfort problems in your house, too.)
In this guide, first we'll talk about the issues that cause most of the energy waste in Chicago houses—and tell you how to fix them. Then we'll take you through a high-level look at Chicago energy efficiency issues, how to find money-saving energy rebates, and the best (and greenest!) energy options for you. 
Looking for a specific topic? This is a big article, so tap our index to go right where you need:
Believe it or not, it's possible to have a Chicago home that's both incredibly comfortable and energy-efficient—even during the coldest winter months or hottest summer days. Here's what you need to know to get there.
Get problem-solving tips to make your home more comfortable and efficient all year long.
3 reasons your Chicago home is wasting energy (and how to fix the problems)
Let's start with the basics. If your Chicago house is wasting energy and utility dollars, it's likely due to one of these three reasons:
Issue #1: Your house is full of holes and air gaps.
Every home needs healthy airflow. But if your house is like the majority of Chicago houses, it's full of gaps and cracks that cause all kinds of climate control problems and energy waste.
These gaps usually form around your foundation, attic, and wall-joists—and though they're hard to spot, they're a major problem. And when those Midwestern winter winds blow, you can feel these air leaks causing major cold air drafts throughout your house. They also cause your house to leak cool air in summer and suck in hot air from outside.
In fact, we've examined thousands of homes and have found that houses with air-leakage issues take in outside air at 3-4 times the rate that's necessary. (For context, that's like leaving one of your windows wide open 365 days per year.)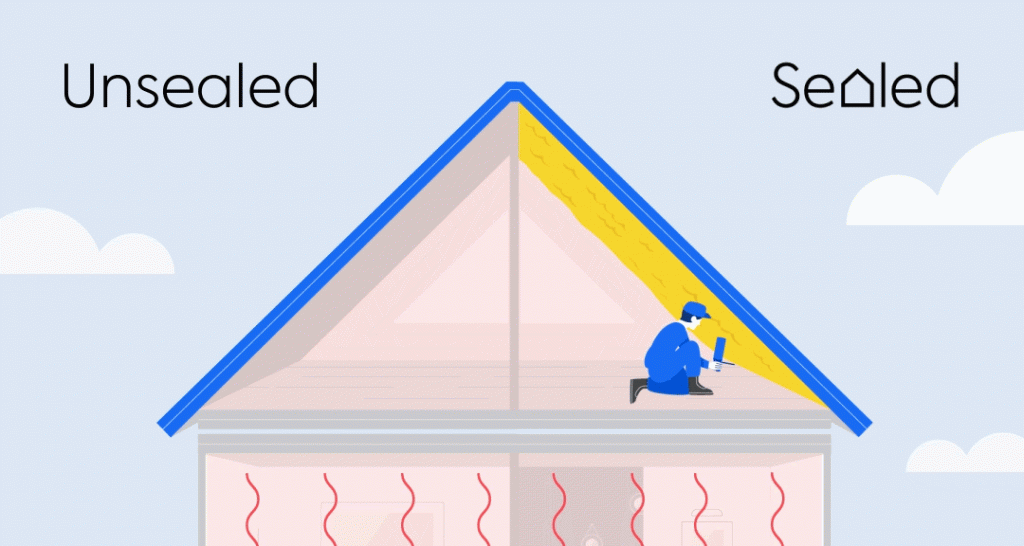 How do you fix air leaks in your Chicago house?
Air-sealing is the fix here. That's when a professional finds all the gaps and cracks in your home and closes them up. (If you're worried about a lack of airflow in your home, don't be—air-sealing experts know exactly how to do their job without "over-tightening" the house.)
Issue #2: Your home has insulation problems.
Lots can go wrong with insulation. If you live in Chicago, it's likely that your house doesn't have enough insulation or might not have insulation everywhere it's needed—especially if you live in a drafty, older house.
And even if your house was correctly insulated in the first place, insulation degrades over time—so your attic insulation that worked 15 years ago probably isn't doing the best job right now.
The energy waste from improper or insufficient insulation can be high. For example, if you have an under-insulated attic and ceiling, as much as 30–50% of your winter heating energy is escaping right up through the attic floor (1). Ouch.
In short, if you don't live in a brand-new build, you're probably due for an insulation upgrade.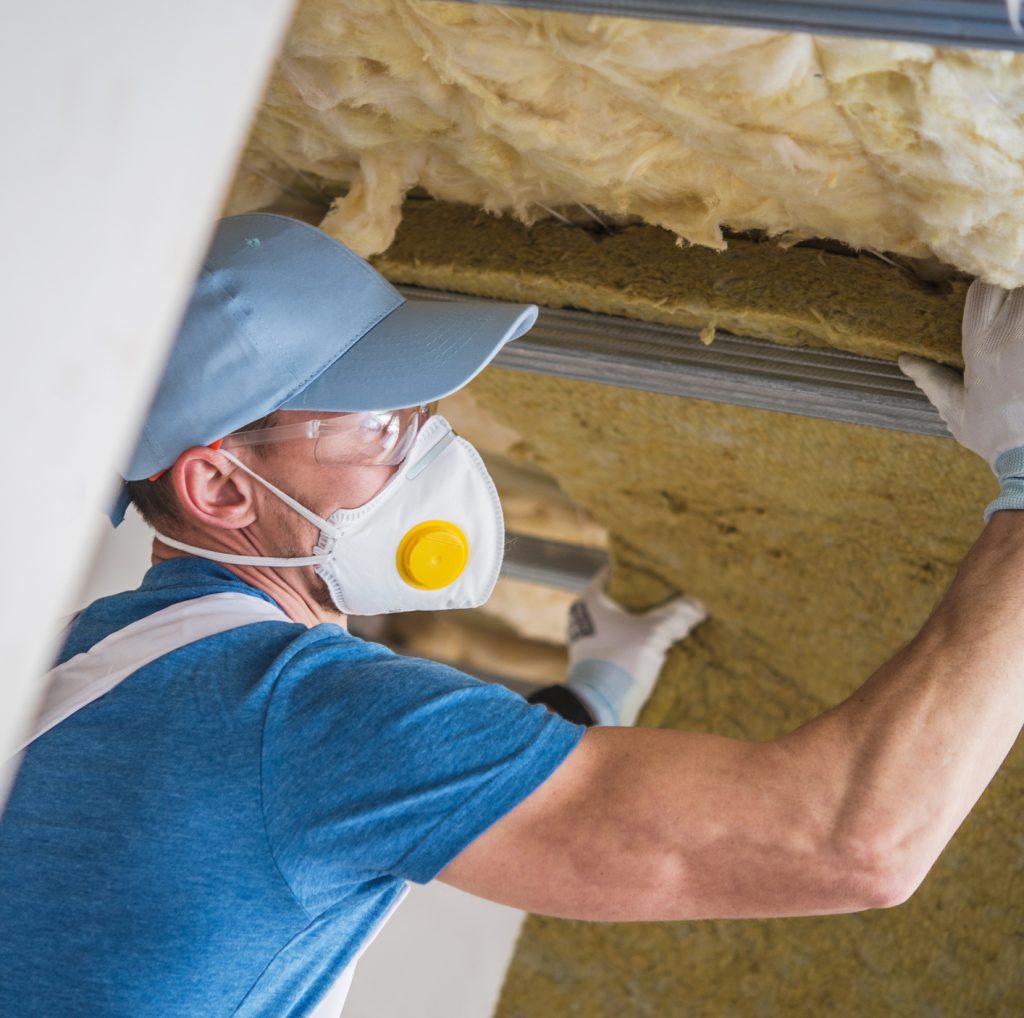 How to get your home insulated for maximum energy efficiency in Chicago
Before you do anything else, make sure you get a professional assessment of your insulation needs (get a free assessment from Sealed). Insulation can make or break a house's energy efficiency and it's important to get it right.
After that? Hire an insulation contractor who will give you an honest assessment and who knows how to calculate the appropriate r-value for your home. (What's "r-value"? Great question. Check out our Guide to Insulation for the full scoop).
Issue #3: Your house needs a climate-control upgrade.
Lots of Chicagoland homes come with HVAC equipment that just isn't up to the challenge of the freezing winters around here. But we probably didn't need to tell you that, right?
If you have an under-insulated attic and ceiling, as much as 30–50% of your winter heating energy is escaping right up through the attic floor.
If your heater runs constantly in winter to heat a house that never gets warm—or if your house is constantly muggy in the summertime—you already know it's time for an upgrade. (And if you've got a heating and cooling system that relies on boiler technology or uses oil as fuel, well, we can only urge you to make that upgrade as soon as possible!)
So what's the most energy-efficient way to heat and cool a home? Here, the experts are unanimous: The heat pump is your best option.
If you haven't heard of heat pumps, we've got some good news for you. A heat pump is—by far!—the smartest, cleanest, and most efficient way to heat a Chicago house in winter.
Even better news: Despite the name, a heat pump does way more than just heat your home—it also cools, dehumidifies, and purifies the air in your house. And it does all of that using as little as ⅓ of the energy of traditional HVAC systems.
That means it's an all-in-one substitute for your entire HVAC system—which is why we call it the Tesla of HVAC, and it's why heat pumps are becoming standard in buildings all over the world—including Chicago. Heat pumps can handle some of the coldest winters on the planet, and they're a straight-up life upgrade when it comes to comfort.
(Want to know how heat pumps work and why they're so much better than traditional HVAC? See our Complete Guide to Heat Pumps for a straightforward, plain-English explanation.)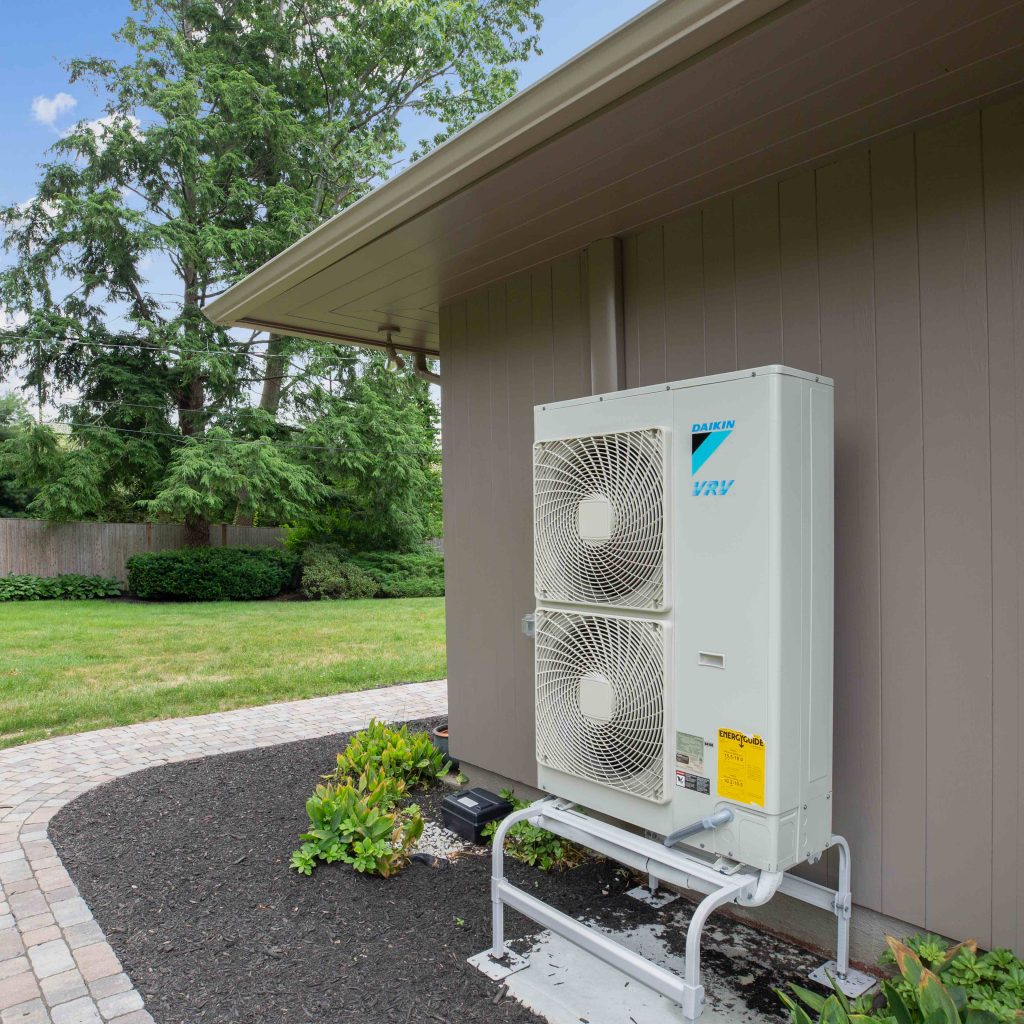 How to get a heat pump installation in Chicago
Honestly, the easiest way to get a heat pump installed in your Chicago house is to talk to us at Sealed. That might sound biased, but we know heat pumps inside and out, we work directly with local experts in your area, we'll arrange the whole process, and we are accountable to the work.
(Answer our 2-minute questionnaire to see if your home qualifies for a new heat pump at NO upfront cost.)
Why standard home efficiency advice doesn't go far enough
You might have noticed that we've gone a bit maverick in this guide. Why?
Well, there's a list of standard advice for saving energy in your house, and here's what that list normally includes:
Replacing incandescent bulbs with highly-efficient LED bulbs
Switching to a smart thermostat (and setting the temperature lower in winter and higher in summer)
Purchasing new appliances with a high Energy Star rating
Unplugging all unused appliances
Getting a tankless water heater (and washing clothes in cold water)
Using physical barriers to curb air exchange (such as plastic sheeting on your windows, door snakes, and thick thermal curtains)
Using fireplace inserts (or other techniques) to close up an unused fireplace
Don't get us wrong—a lot of this is good advice. Doing any of the above items on the list will certainly save some energy.
Homeowners should focus on the big three solutions that have been proven to have the biggest effect on curbing energy waste: insulation, air sealing, and HVAC.
But if you want to significantly reduce your home's energy waste while increasing your home's comfort, you need to address the real problem—and the standard lists simply don't go far enough, especially when you consider that 43% of the energy you purchase goes to heating and cooling your house (2).
You can switch to LED lightbulbs and purchase all-new, efficient appliances, but if almost half of the energy you purchase is escaping through your under-insulated attic and air leaks in your home, well, you'll have a long way to go.
That's why we strongly recommend that you focus on the big three solutions that have been proven to have the biggest effect on curbing energy waste:
Effective insulation
Professional air sealing
Efficient HVAC
Confused about whether you need new windows?
A special word about windows: Plenty of Chicago homeowners believe that their older or drafty windows are the culprit in their house's energy-efficiency issues. And there's a good reason this idea persists: Window-makers have been repeating it for years.
The truth? While older windows certainly aren't helping you save energy, it's far more likely that it's the gaps around your windows that are to blame for most of the waste. We've done the research and the work, and we've found that getting your home professionally air-sealed and insulated works better and is usually a much better financial investment—dollar for dollar—than new windows.
See the differences in ROI for insulation and air sealing compared to new windows in our guide to energy-efficient home improvements.
The gaps around your windows are likely to blame for most of the waste—not the windows themselves.
(That said, if you want to know for sure, talk to one of our Sealed experts. They'll assess your home and let you know the right next steps for making it as energy-efficient as possible. And if they can't help you, they'll help you find someone who can.)
Long story short: Don't skip air sealing and insulation. And—pro tip—if you do decide to get new windows, make sure to get your home air-sealed afterwards. It makes a huge difference.
Energy efficiency Chicago: What you need to know about your utilities, rebates, and more
Now that we've covered the big reasons your house is wasting energy, let's dig into the issue of energy efficiency in Chicago.
Why Chicago energy efficiency is such a huge issue
Here's what makes energy-efficient climate control particularly challenging in this area:
Chicago weather can be brutal
Every year, Windy City area residents brace themselves for the biting cold of another Lake Michigan winter. The area routinely spends weeks in below-freezing temperatures and weather here has, historically, gone as low as -27 degrees Fahrenheit (3).
Summer temps, meanwhile, can easily vault into the 90s—and those temperatures could trend even higher as Chicago's climate shifts over the coming decades.
That kind of weather volatility makes keeping a house comfortable in both winter and summer challenging, and it makes optimizing for energy efficiency in Chicago homes even more important.
(Another quick plug for heat pumps here! They're designed to both heat and cool homes, and they're flexible enough to handle whatever the gods of Chicago weather throw their way.)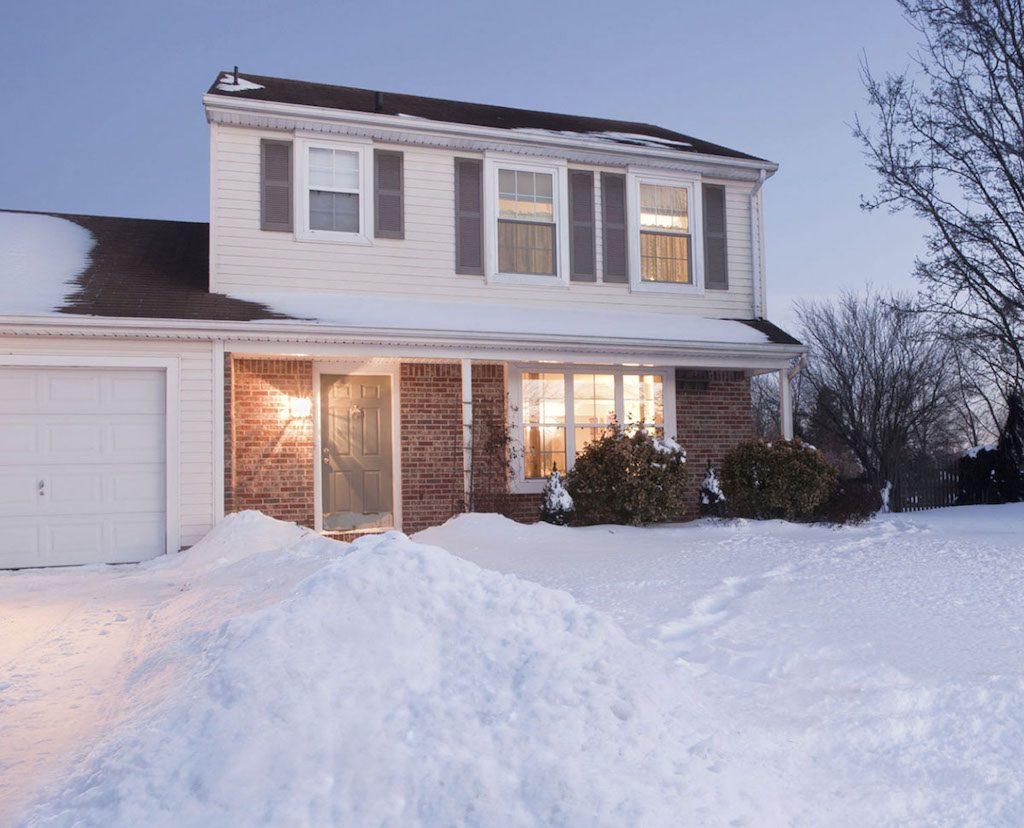 Chicago homes aren't well-prepared for weather extremes
Unless your home is brand-new and built to optimize energy consumption, it's probably hemorrhaging energy.
For example, most Chicagoland homes have ceilings and attics that are under-insulated (or not insulated at all), which means up to 20% of that energy escapes up and out through the roof (4).
And that's just one issue. Add in old and inefficient HVAC systems, outdated construction, and widespread air-leakage issues, and you've got a city full of houses that waste a lot of energy (and are pretty uncomfortable for the people who live in them).
11 Popular Chicago home types—and their energy waste and comfort issues
If you want to dive deeper into home comfort and energy waste challenges in Chicago, for further evidence, let's look at some popular Chicagoland home types:
The Chicago Bungalow: These popular Windy City homes are usually outfitted with a basement and plenty of windows, and they can take in drafts easily through numerous opportunities for air leaks.
Second Empires (with Mansard Roofs): Large arched windows and multiple stories, including a flat roof, present home ventilation issues and uneven, uncomfortable temperatures between floors. (The top floor is really warm in summer.)
The Greystone: As the cousin of the New York Brownstone, the Chicago Greystone with multiple stories, a basement, and many tall, arched windows, can experience drafts and uneven temperatures throughout the home—especially at the floors and windows.
Victorian: Where do we get started with the energy and comfort issues of these incredible period homes? Check out our Victorian House Energy Efficiency guide to learn more. Their elaborate floor plans often include multiple attics—and multiple stories with high ceilings create problems with drafts and heat loss.
Colonial Revival and Dutch Colonials: These two Colonial home styles are slightly different, but the overlap in construction methods and the time periods when they were built. Their old stone foundations let in a lot of airflow and original plaster walls have little to no insulation.
Workers Cottage: Whether your Chicago cottage is constructed from brick or wood, it's likely it's wasting energy between air leaks around windows and the foundation and under-insulated attics—making it feel a little less cozy and a lot more uncomfortable.
The American Foursquare: This hearty, wholesome house type has a number of thermal boundary issues caused by attics that usually have never been insulated. And the old plaster walls don't have much insulation, either.
Georgian Revival: With multiple stories and bay windows, a Georgian revival that hasn't been properly air sealed or insulated in the last 10 years can waste energy like a pro.
Tudor Revival: Nooks and crannies throughout Tudors found in side attics and crawl spaces usually have never been insulated or air sealed, making these houses big harbors of Windy City drafts.
Cape Cod: These cute-as-a-button classic homes come with plenty of hidden attics that often weren't insulated (or insulated enough) at the time of construction. And the upstairs can feel like a sauna in summer.
Modern Ranch (Including the Popular Split-Level): While it's easy to assume these more modern house types escape many comfort and energy efficiency issues in Chicago, large, uninsulated attics and recessed lighting fixtures create unwanted airflow and uneven temperatures. And overhangs and garages create hot and cold spots and even more airflow issues.
Next, let's take a look at a big reason that Chicago energy efficiency is a huge issue—one you're probably pretty familiar with as a homeowner.
Chicago energy prices are increasing
The cost of energy waste in Chicago is soaring, largely because energy prices are soaring.
In the fall of 2021, NICOR—which provides natural gas to some properties in the Chicago suburbs—announced that natural gas prices could rise by 48% over the winter (5). In fact, on average, Chicagoans paid 43% more during the 2021-2022 winter to stay warm (6).
The price could rise even more inside the city limits, and—what's worse—the rise in natural gas prices can affect electricity prices, too, because some of Chicago's electricity is generated by natural gas. Since March 2021, Chicago homeowners' natural gas costs have skyrocketed between 56% and 94% depending on your gas utility (7).
In short, if you haven't seen it reflected in your energy bills yet, expect it: Wasting energy is getting even more expensive. The average utility costs in Chicago are going up. Way up.
The average utility costs in Chicago are going up. Way up. It's time to prepare yourself—and your house—for escalating energy prices.
And because about half of your home energy use is used to heat and cool your house, any energy waste there is going to have an even bigger impact on your energy bill (8).
But what if there was a way to reduce waste and redirect what you were spending on wasting energy into the comfort of your home instead? (Hint: There is a way! We created one.)
If your house qualifies, you can get energy-efficiency upgrades from Sealed—we work with local contractors who understand Chicagoland weather and energy concerns. And you can use local energy rebates toward the work, too, if they're available in your area.
So, if those are the main energy-efficiency challenges, what energy options do you have in Chicago? Let's go over those.
Energy options in Chicago
Use this index to jump ahead to your question today:
Average utility bill in Chicago
The average utility bill in Chicago is $134 per month, according to Numbeo.
A few things to know about that number, though. First, that dollar amount says nothing about what you'll pay for your utilities—every home is different and has different energy and comfort challenges, so your bill will reflect your own situation and usages.
The other thing to know? That average utility bill will almost certainly go up in the coming years. It's time to prepare yourself—and your house—for the escalating cost of energy waste.
Electricity in Chicago—what you need to know about ComEd
Commonwealth Edison—or ComEd—has been the primary electricity delivery company for the area for over a century. If you use electricity in your home, it's being delivered by ComEd.
ComEd's rates are fairly competitive compared to those in other major metropolitan areas, and the company is investing in the transition toward using renewable energy sources (9).
ComEd provides a lot of their customer services on the web. You can, for instance, report an emergency outage to ComEd online—and you can also start, move, or stop your ComEd service. (And, hey, while we're shooting you links, here's where you can pay your ComEd bill right now. Late fees are a downer.)
Why is my ComEd bill so high?
The most obvious reason your ComEd bill is high is that your home is using a lot of energy. And that could be due to several factors. Another reason is that energy costs are going up in general—in Chicago and across the country.
But the other major factor behind your high ComEd bill is that your house is probably wasting a lot of the energy you buy through insulation issues, home air leaks, and inefficient HVAC—which means you're using more energy than you need.
Fortunately, that's a problem that can be fixed easily, and for no upfront cost—as long as your home meets eligibility requirements. (Answer a 2-minute questionnaire to see if your house qualifies for efficiency upgrades.)
How can I lower my ComEd bill?
You can lower your ComEd bill by reducing your energy use, but remember, this often takes more than switching over to LED lightbulbs or setting a certain temperature on your home's thermostat. You'll need to strategically tackle the three main areas of energy waste—insulation, home air leaks, and heating and cooling efficiency—to lower your ComEd bill and cut wasted energy.
Is it possible to get clean electricity in Chicago?
Yes! While ComEd is the sole electricity delivery company for Chicago, you get to choose your "supplier"—that is, where that electricity actually comes from. If you want clean electricity, choose a clean electricity supplier—simple as that. (Switching is easy, and the process isn't dramatic. No one will show up at your house to flip a switch.)
How do you switch to a clean electricity supplier? First, you'll want to visit Plug In Illinois to learn more about how the process works. Then, you'll need to dig into the list of certified electric suppliers who deliver to Chicago homes via ComEd. The goal: Choose an electric supplier that provides green energy or has a green energy plan (you'll need to do some research, but it's for a good cause!).
Another good option: Visit EnergySage, which helps you find rooftop or community solar energy providers near you.
What ComEd rebates are available?
A great way to increase your home's efficiency at the lowest possible cost is to take advantage of energy-efficiency rebates offered by ComEd.
What kinds of purchases are eligible? Plenty. You can get ComEd rebates on things like smart thermostats, efficient home appliances, and—our favorite!—brand-new heat pumps.
How do you get a ComEd energy-efficiency rebate?
That depends on what you buy. For some purchases, you'll be able to get an instant rebate through the ComEd marketplace. For other products, you might be able to get an instant rebate coupon here. You'll need to fill out a rebate form (you can find information on how to do that by choosing the product you're interested in on this ComEd rebates page).
For the most complete information on ComEd appliance rebates, visit the official ComEd page.
Finally, keep in mind that if you do any home efficiency upgrades through Sealed, we'll automatically check to make sure you're getting any rebates you're eligible for—and help you find the right ones to use.
Natural Gas in Chicago—what you need to know about People's Gas
People's Gas is the primary natural gas provider in Chicagoland—you can contact them at their website or by calling 917-382-3729 during business hours.
Why is my People's Gas bill so high?
The cost of natural gas in Chicago is skyrocketing—a recent press release warned that natural gas prices could rise by almost 50% over the coming winter (10). So if your natural gas bill this winter seems higher than expected, that's likely why.
Keep in mind, too, that energy waste is a huge factor in high energy bills and comfort issues. So if your home hasn't been inspected recently, it might be time to see if you're eligible for upgrades that are guaranteed to reduce your energy use—and solve your home's comfort issues at the same time.
What People's Gas rebates are available?
People's Gas offers rebates of up to $500 on home projects that can increase energy efficiency, such as:
Natural gas water heater rebates
Thermostat rebates
Air sealing rebates
Wall insulation rebates
Attic insulation rebates
To receive these rebates, you'll need to start the process online. Though if you prefer doing things old school, you can download and print a paper rebate form here.
(Also, as with ComEd's rebates for heat pumps, Sealed will always make sure you're getting the available rebates for any work you do with us. No worries there!)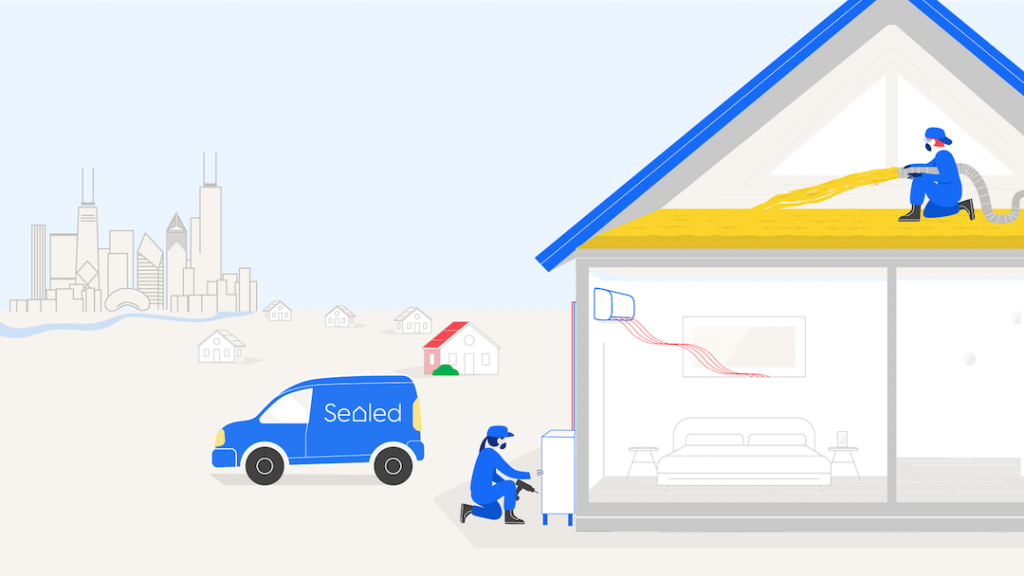 Chicago energy efficiency—an FAQ
Below are some common questions about energy efficiency in the Chicagoland area.
Does Chicago use renewable energy?
We're working on it! Chicago uses a variety of energy sources, and many of those sources generate electricity by using fossil fuels. That said, it's absolutely possible to find renewable energy suppliers in Chicago (tap here for more information on that), and leaders are working to upgrade Chicago's energy grid and transition the city to using more and more renewable sources.
In fact, the State of Illinois is aggressively moving toward clean energy sources. Illinois has the following renewable and carbon-free energy goals (11):
To be at 40% renewable energy by the year 2030
To be at 50% renewable energy by the year 2040
To be at 100% carbon-free energy use (both renewable + nuclear sources) by the year 2050
What is Chicago's main source of energy?
In Chicago, the primary source of energy is natural-gas-fired power (37%), with nuclear power following in a close second (34%) (12).
Zooming out to look at the state as a whole, most of Illinois's energy (58%) is generated from nuclear power plants—in fact, Illinois generates more electricity from nuclear energy than any other state in the country (13). Coal-powered plants are the second largest source of electricity (18%), while natural gas was the source of 14% of the state's electricity.
Hopeful for wind power? So are we. It's on the upswing. Wind-generated electricity currently accounts for almost 10% of electricity in Illinois.
What rank is Illinois for energy consumption?
Illinois uses a lot of energy—we're the fifth-highest energy-consuming state in the nation (14).
Most of that energy goes to industry and transportation, but Illinois residents use a lot of that energy, too. In fact, Illinois houses use more natural gas to heat their homes than all of the state's power plants (15).
(That's just one more reason to ensure your house is as efficient as possible!)
Is energy efficiency a good thing?
Absolutely. What most people don't realize is that energy-efficiency issues are the root of most of your home comfort issues. When you take the steps to make your home more energy efficient, you not only reduce your energy consumption (and energy bill) but you also make your home way more comfortable and livable. It's a win all around.
Get an energy-efficient Chicago home—without breaking the bank
If you live in Chicagoland, you could be eligible to get professional home-efficiency upgrades—such as air-sealing, insulation, and heat pump installation—at NO upfront cost (if you choose!).
You'll pay us back in the way that works best for you. (Cash? We can do that! Flexible payment plans? We do that, too!)
It's a simple concept that Sealed customers love—especially when they feel how comfortable their homes are without cold air drafts.
If I don't have to spend any extra money to get a huge improvement to my home, it's just a no-brainer at that point.

— Scott R., Sealed Customer
The great thing about working with Sealed is that it's zero stress. We'll make sure you get the upgrades you need, ensure the right local experts are hired, and direct the project every step of the way.
Even better: We stand by our work. We guarantee your upgrades will cut energy waste—and we have a proven history of getting the work done right.
Basically, working with Sealed is a hassle-free way to make your home as energy-efficient and comfortable as possible.
Want to learn more about how Sealed can help? Answer an easy 2-minute questionnaire to see if your home qualifies for energy upgrades from Sealed.