Make the most of every sun ray that your house soaks up.
Thinking about installing solar panels?
There are a few things you should know before you take the plunge.
And one of them is that it's best to make sure your house is energy efficient first.
Home energy-efficiency and home solar are cousins: They're both great ways to take control of your energy use, reduce strain on the grid, improve your home's value, and limit your carbon footprint.
But home energy efficiency and solar operate in different ways—they're two separate home improvements, although they complement one another.
Here's the breakdown:
An efficient home requires less energy to operate overall
A solar home produces its own electric power
As trusted home energy experts, we get a lot of questions about solar here at Sealed. We're big fans of powerful upgrades that make homes more efficient, more comfortable, healthier, and better for our planet.
And while we don't sell solar ourselves, we have trusted relationships with some of the best solar companies who we refer our clients to when they're ready to go solar.
Want to learn more? Read on!
Feel smarter year round. Get problem-solving homeowner guides and efficiency tips with the Sealed newsletter.
How does solar work?
First, a quick review of how residential solar works: Installing solar panels doesn't change how much energy you use; it changes what kind of energy you use and where it comes from.
Solar is greener and cleaner, but it cannot make your home's energy consumption leaner.
(We love a good rhyme and couldn't resist. Now back to your overview of how solar panels work!)
Solar is greener and cleaner, but it cannot make your home's energy consumption leaner.
When you put solar panels on your roof, they collect sunlight in the cells and transmit that energy through copper wires on the back of the panel out to the inverter. The inverter converts the electricity from DC to AC power so you can use it in your home.
Whatever electricity is not used for your own consumption is often sent out to the electrical grid—if your solar panels are connected to the utility grid. (If not, in some cases, this unused energy can be stored in a battery).
If your solar panels don't generate enough energy for the amount your household consumes, you'll use electricity from your local utility and be charged accordingly.
And this is important to keep in mind, because—in order to enjoy the possibility of not ever paying a utility bill again—it's likely you'll need to reduce your home's energy waste, too.
What to know before installing solar panels
There are a few crucial things to know before installing solar panels:
There are multiple ways to pay for solar installs. Take time to explore what might be best for your situation.
Some HOAs or neighborhoods have restrictions on solar panel installation. Check with them before installing if you're part of an HOA or have local restrictions.
Your roof should be in good shape before you make the switch (if you're doing a roof installation). Many solar companies can help you with this part!
You'll need to have a certain amount of sun exposure in the area you're going to install the panels.
Depending on where you live, there may be rebates and tax incentives available if you go solar.
You'll need to let your homeowners insurance company know after the installation so they're properly insured.
Thankfully, your professional solar installer will help make sure your home is a good candidate for a solar panel installation before you take next steps.
They'll usually check your sun exposure, roof condition, installation regulations in your area, and may even be able to help you understand different financial incentives (like rebates and tax credits) that are available.
However, there is one key thing to know before you install solar panels… and your solar installer may or may not bring it up before you start your solar project.
How energy efficient is your house?
The most important thing to know before installing solar panels
How energy efficient is your house?
This is an important question to explore before you decide to install solar panels. (And one a professional home energy audit can help you answer.)
Solar is a big investment—and a smart one, at that!—but if your house is wasting a lot of energy… installing solar will mean you're just wasting energy in a cleaner way.
If your house is wasting a lot of energy, installing solar will mean you're just wasting energy in a cleaner way.
Remember, home energy efficiency and solar are cousins. They are two separate projects that complement each other.
For home efficiency, it's not just older home appliances and lighting that you need to think about—it's also the things that you cannot see.
The majority of houses built before 2005 were constructed without energy efficiency in mind.
That means even if you upgraded your kitchen appliances, washer and dryer, and transitioned to LED lighting, you still wouldn't make a dent in the most significant areas that impact your energy efficiency.
Did you know? 20 to 30% of the air that moves through ducts is lost due to gaps, holes, and poor connections. And 20 to 40% of your home's heating and cooling energy is lost due to air leaks throughout the house.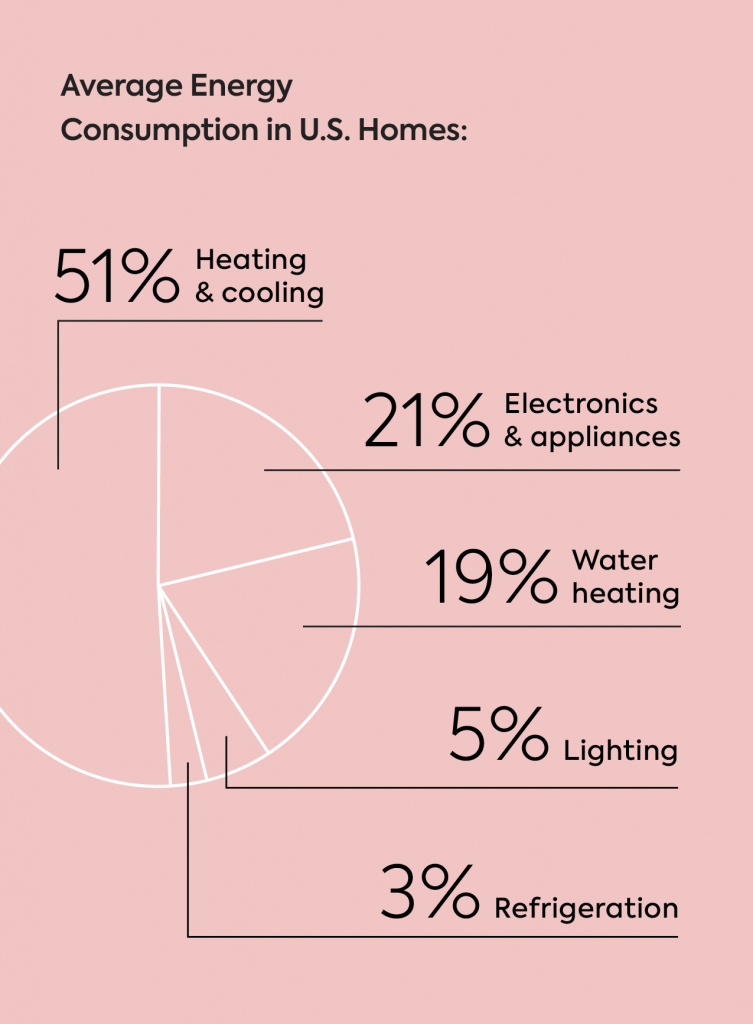 The biggest source of energy waste in your home isn't your windows. And it's not your water heater or lighting, either.
It's heating and cooling your home.
In fact, 51% of your home's energy consumption is dedicated to heating and cooling on average (1).
So what's a homeowner to do?
You want to stay comfortable in winter and summer, so you crank up the heat or turn down the air.
But when you have insufficient insulation or unsealed air leaks in your home (and the majority of U.S. homes do), you're unlikely to maintain comfortable temperatures indoors—even if you keep adjusting the thermostat… and even if you have a newer furnace, air conditioner, or heat pump.
The air you're paying to heat and cool escapes outside due to airflow issues caused by an insufficient thermal boundary and a building envelope that needs repair.
Air sealing and insulation upgrades work together to repair your house's thermal boundary and building envelope… and stop your home from losing heat in winter and cool air in summer.
That way, your home feels more comfortable year round and conserves more energy. 
You could cut up to 50% of your energy use when getting high-performance insulation, professional air sealing, and heat pump HVAC upgrades with Sealed. Learn how.
Pair those improvements with a super-efficient heat pump HVAC system and a smart thermostat—the most efficient heating and cooling system on the market—and you've really upgraded your overall efficiency at home.
(Not to mention, your comfort gets a big upgrade, too. Say goodbye to cold drafts in winter and stuffy, humid rooms in summer.)
Without stopping the biggest cause of energy waste in your home first, your house will continue to use more energy than it has to.
And that means your solar panels have to create more energy year round to keep up with the waste.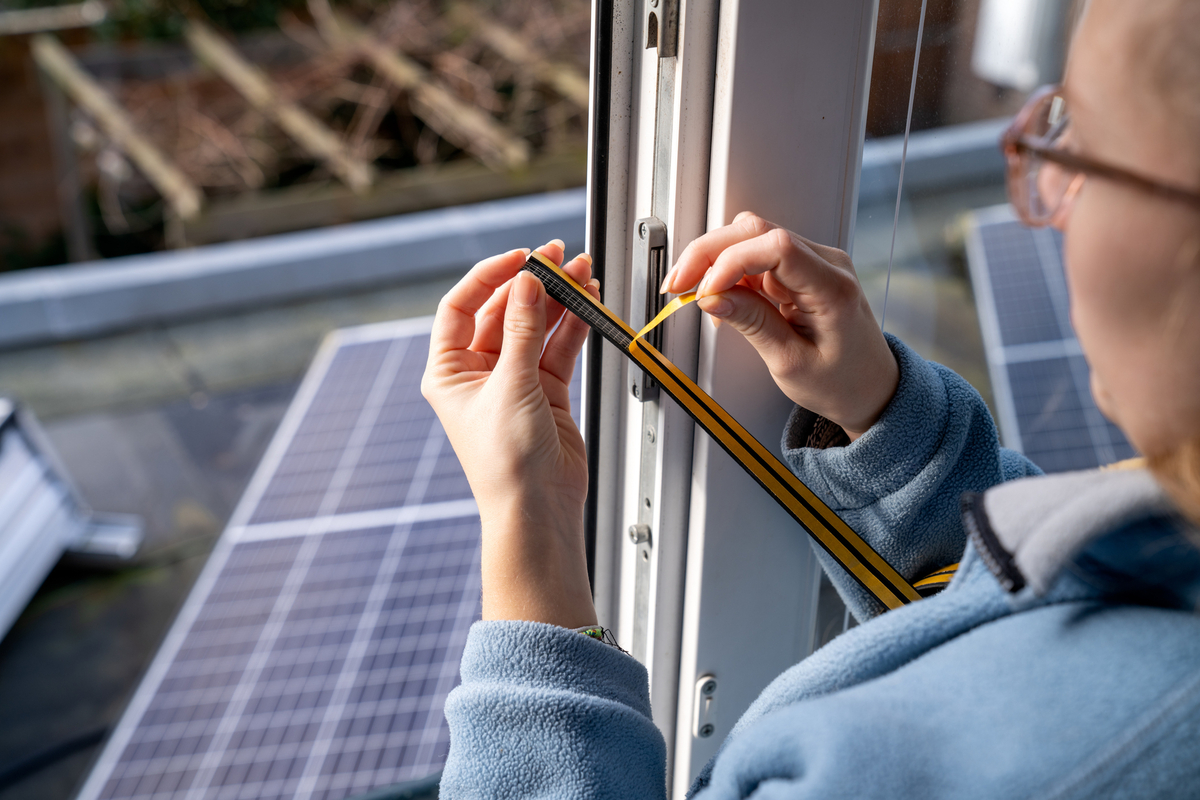 What are the best ways to pay for solar panels?
Sold on solar?
Residential solar can be a significant financial investment, so let's dig into some of the best ways to pay for solar panel installation below.
Power purchase agreement
One popular payment option for solar is the Power Purchase Agreement or PPA.
With a PPA, you pay for the solar production at a fixed rate (e.g. $0.15 per kWh) that is usually lower than the utility rate.
The advantage of the PPA is that you only pay based on actual performance.
Many PPAs also include a production guarantee (make sure to ask for this!). The downside to the PPA is you don't own the panels yourself outright.
Lease
A lease is very similar to a PPA in that most solar companies guarantee solar production, but you make regular monthly payments rather than paying based on solar production.
Just like a PPA, you do not own the panels and the solar company takes all the responsibility for the panels.
Some homeowners may prefer this route if they're interested in worry-free upkeep and maintenance (solar panels do require regular monitoring and servicing on an as-needed basis).
Loan
There are a number of loans you can take out to finance a solar project, including home equity loans, government subsidized loans, and loans directly from your solar company.
Depending on the term of the loan, you can end up paying more monthly than you had been paying on your electric bill, but you'll own the system after you pay it off (typically in about 10 years), leaving your electric bill at or near $0.
Some states offer solar loan programs, too. For example, New York State has a loan available through the NY-Sun program, including an on-bill recovery option.
Cash
You can, of course, still pay cash for solar.
If you pay cash, you could get the state and federal tax credits back in the next year or two, and the payback period is somewhere around 7 years.
The advantage to this is you may never have to pay an electric bill again—and you own the system yourself.
Speaking of tax credits, rebates, and financial incentives…
Did you know that there are new home energy upgrade tax credits under the Inflation Reduction Act? Starting in 2023, you could be eligible for a tax credit that could cover 30% of the costs of installing rooftop solar (2).
Who should get solar?
Residential solar technology has evolved quite a bit, so much so that almost every home can go solar regardless of its characteristics.
That being said, the ideal solar site usually includes:
No trees or other buildings obstructing the sky
At least one section of the roof that faces south
A roof with at least one fairly large open surface—no windows, peaks, or chimneys
And of course, a desire to take control of your electric bills
If you're not sure if solar would work for you, talk to a licensed solar panel installer to get a better idea of what's available to your home or required in your area.
What to look for in a solar installer
There are plenty of solar installers to choose from—and as the technology gets more popular and attainable, solar installer options are sure to increase.
How do you make sure you're choosing an experienced installer that will produce excellent results?
Here are a couple things to look for when you're deciding on what solar installation company to go with:
1. Quality of the panels
Like anything, solar panels range in quality and price.
Pay attention to the power output of the panels, it generally ranges from 200 to 400 watts, and that difference has a big impact on how much you can benefit from solar.
2. Workmanship warranty
One sign of a good solar installer is a robust workmanship warranty (sometimes referred to as a workmanship warrantee).
Some companies guarantee their panels for up to 25 years. If your installer doesn't provide a workmanship warranty, you should definitely ask why.
3. Licenses and certification
It's very important that the installer you choose is licensed and experienced.
The first thing to look for is if they have a NABCEP certification (from the North American Board of Certified Energy Practitioners) which is standard for any good solar installer.
You may also be able to vet a solar company through a trusted state- or utility-run solar program website; check for solar installers that partner with state and local utility programs.
4. Reviews
Lastly, don't forget to take advantage of review sites like Yelp, Home Advisor, Solar Reviews, and others. The best judge of a solar company is how happy people are with their work afterwards.
Is going solar worth it?
Well, we're glad you asked.
To make sure installing solar panels is worth it for your situation, you'll need to get into the details and do a little math.
Paying $0 a month for your electricity seems like a pretty sweet deal, especially with the rising cost of electricity.
But it's not guaranteed—as your energy production will have to meet or exceed your energy consumption.
There are a couple other things to do before you decide solar panels are right for your home:
Analyze the overall costs of going solar, including the costs to purchase and install your panels compared to your energy bill costs
Estimate how much solar energy your home can produce based on average sun exposure expected in your local climate (an experienced solar installer can help you do so)
Consider "hidden costs" like paying for a new roof ahead of your install if you need one, lifetime maintenance costs of the equipment, and any increases to your homeowners insurance premiums
But this is what we think: Solar is definitely worth it for many homeowners—especially when paired with home efficiency improvements. (We love them so much, we wish more eligible homeowners would install solar panels!)
When you electrify your home, or transition to all-electric appliances, you remove the need to pay for natural gas and you can effectively run your house on the solar energy that you produce.
And if you make your home as efficient as possible—through upgrades like high-performance insulation, professional air sealing, and super-efficient heat pump HVAC—you'll be making the most of every sun ray your house soaks up.
When you pair home energy efficiency with solar upgrades, your electric company could eventually end up paying you.
(Depending on if you own your panels and your local utility regulations, of course.)
Now that would be a win after all those years paying high energy bills.
Get home energy upgrades at zero upfront cost
Thinking of upgrading your home by downgrading its energy waste?
At Sealed, we believe homeowners should be able to get home energy improvements that make the most of their solar energy production without hassle… and without draining a bank account.
So we came up with a better way to pay for home comfort and energy upgrades: 
We manage the project from start to finish with a white-glove touch, including working with the best-of-the-best local contractors in your area and helping you understand eligible rebates and incentives for your project.
You pay us back for the work done with a flexible payment plan that works best for you.
And we stand by our work, too—we stay accountable to the results.
Plus, if your energy upgrades don't save energy, we take the hit. Learn more about the Sealed payment plan.
And while we don't install solar, we can help point you in the right direction of a trusted solar company.
We'll take care of making your house more efficient to make the most of your solar upgrades (these two home improvements go hand-in-hand, remember?), and we can coordinate seamlessly with your solar install plans.
To see if you qualify for high-performance home energy upgrades at zero upfront cost, complete our quick questionnaire.