What's so smart about smart thermostats, anyway? Here's why these little geniuses really do live up to the hype.
Wondering what all the fuss is about when it comes to "smart" thermostats? You're in the right place.
We're Sealed, and we'll help you break down the what, how, and why of these heating and cooling MVPs.
For starters, did you know smart thermostats can cut your energy use by 10 to 12 percent (1)? It's true—they're so efficient, smart thermostats lower your energy bills and end up paying for themselves after just two years!
And better yet, with Sealed you could get a smart thermostat for $0 upfront if your house qualifies. Find out how.
Here's what you'll cover:
What is a smart thermostat?
In short, smart thermostats are awesome little smart home devices that can help your home feel better, more comfortable, and cut energy waste at the same time.
More specifically, smart thermostats are Wi-Fi-enabled devices that control your thermostat settings automatically. Initially, you can manage your preferred temperature settings from your smartphone, tablet, or smart speaker.
As time goes by, smart thermostats actually learn your temperature preferences and patterns.
And depending on which brand or model you choose, some smart thermostats can even be programmed based on your daily schedule and the local weather (with "geofencing" technology—it's pretty amazing!).
This means that these little geniuses figure out when to raise and lower your home's temperature, and in which rooms if you have zone-by-zone heating and cooling, based on occupancy. They automatically use less heating and cooling when the house is empty and more when you're home.
Here's why that's great: If you're only running your heating system or air conditioner when it's needed, you're using a lot less energy to keep your house comfortable. That's good for your bottom line—and the planet.
The longer you have a smart thermostat, the more intuitive it becomes.
The longer you have a smart thermostat, the more intuitive it becomes.
Best smart thermostat features: Here's what they're experts at
Smart scheduling. You can set schedules for your HVAC system: one for day and one for night—and even one for vacay!
Tracking energy consumption. Smart thermostats track how much energy you use. So you get real-time data on your energy savings.
Sensing change. Remote sensors inform your main thermostat of each room's temperature. So if your bedroom is getting a little warm, the main thermostat can adjust the temperature room-by-room if your system is zoned for it. (Mini-split heat pumps can do this!)
Working on WiFi. No need to get out of bed on summer nights—just use a smartphone app to kick up the air conditioning. (And don't worry—if your WiFi goes out, you can still operate smart thermostats manually.)
Syncing with other smart devices. Smart thermostats are compatible with home smart speakers (like Amazon Alexa, for example) and smart smoke alarms. Safety first!
Not receiving the Sealed newsletter? You're missing out. Sign up for tips, tricks, and guides to making your home more comfortable and efficient.
If your Wi-Fi goes out, you can still operate your smart thermostat manually.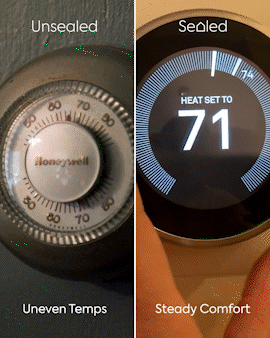 How do smart thermostats work?
Smart thermostats have three main parts that keep them running:
The common wire (C-Wire): plugs right into your HVAC system, deriving power from your home's heating or cooling system.
The thermostat control: senses the temperature of each room then speaks to your HVAC unit directly to keep your home at your desired temperature settings (also via learned algorithms).
The app: uses WiFi to communicate to the thermostat control unit, directly managed from your smartphone, a tablet, or any other internet-enabled device.
So basically, when you install a smart thermostat, the thermostat control works with your existing HVAC unit, taking "orders" from settings you've already programmed in the app.
And they store your home's info and preferences in their system so that over time, they memorize your home's comfort levels!
Why you should install a smart thermostat
Smart thermostats are fast learners. This means these clever guys quickly figure out your home's ideal temperature. And if you want room-by-room temperature control, your smart thermostat can handle that, too (depending on how many room sensors you use and what type of HVAC system you have).
A smart thermostat makes it much easier to decrease your heating and cooling use when you're not at home. This doesn't just help cut energy usage (which can save you money on your electricity bill), but it also keeps your home feeling right for your return.
Thanks to the magic of Wi-Fi, you can talk to your smart thermostat no matter where you are in the world (whether you're on a grocery run or on vacation in a different country).
Do smart thermostats save energy?
Yes, smart thermostats can definitely save you energy. The Nest Learning Thermostat, one of the most popular smart thermostats (and the first-ever to get ENERGY STAR certified!), estimates an average savings of $131 to $145 a year (2). But the longer answer is a bit more tricky.
Energy prices are rising more and more each month. In fact, to have a meaningful drop in energy waste, you have to make sure you're not losing the air you pay to heat and cool because of poor insulation and air leaks.
(Learn more about home insulation and air sealing with our guides.)
So let's get to the bottom of this.
Over half of the average US household's energy goes to heating and cooling (3). And did you know up to 40% of that energy can be lost due to air leaks? (If you want a good explainer of how your home is losing the air you pay to heat and cool, check out the video below.)
The good news? We've serviced thousands of homes—and we've discovered that pairing your smart thermostat with other smart home upgrades (like high-performance insulation, air sealing, and heat pumps) can cut your home's energy waste big time—by up to 50%!
Hello, lower utility bills!
Fun fact: Smart thermostats can cut your energy use by 10 to 12 percent!

Nest independent studies
Does a smart thermostat increase a home's value?
One thing's for sure, smart home tech is on the rise. The smart home market is growing at about 10% every year (4). Now, smart thermostats may be savvy additions to your home, but are they a smart investment?
Well, one study by real estate giant Coldwell Banker found that 81% of home buyers would be more likely to purchase a house if smart home technology was already installed. And a recent study also showed that homes with smart home tech can raise their property value by about 3 to 5 percent.
But let's do the math. Home values rise by about $20 for every dollar saved on annual energy costs (5). And with a new study proving homeowners can use up to 12% less energy on heating and 15% on cooling with smart thermostats, it seems to be settled. They can add value.
And that's a nice bit of padding added to your home's future worth—along with your present-day comfort.
Homes with smart home tech can raise their property value by about 3 to 5 percent.

Consumer Reports
Making the switch: Which one is the best smart home thermostat for you?
Smart thermostats are so much more than just temperature control. These app-enabled savvy gadgets let you schedule heating and cooling, learn your preferences over time, can detect when you're not home, and you can even control them while you're away.
Plus, many smart thermostats offer compatibility with other apps like Google Assistant, Alexa, Apple HomeKit, and more.
Whether you want to send commands to your thermostat with your voice or use less energy with your app's scheduling feature, the best thermostats offer flexibility to customize your experience.
But which smart thermostat is best for you? With all the options out there, it can be tough to narrow it down. But look no further, we've done the research for you!
In no specific order, here are the best smart thermostats out now:
If you're shopping around, might we recommend the Nest? But not because we have to (they don't pay us to say this!). All smart thermostats are a smart decision, but the Nest is our favorite because of how well it works with heat pumps.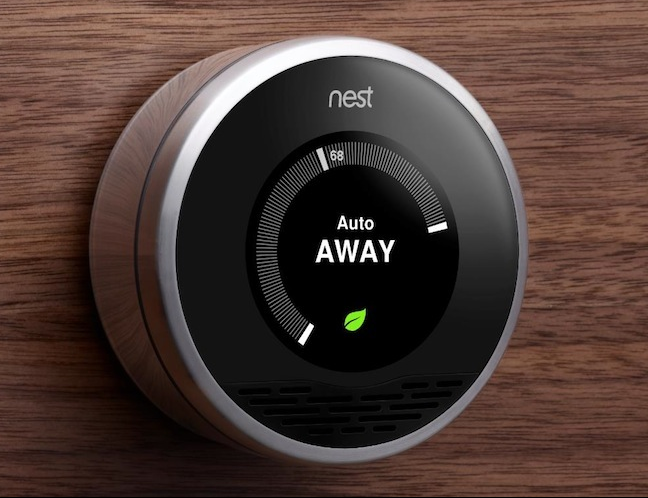 Is the Nest thermostat worth it?
At Sealed, the Nest smart thermostat is the only kind we install. Nest is the OG of smart thermostats. Now in its third version, this Google device is more polished and powerful than ever before.
It's still got the original features, like easy installation, pairing with your Google Home, and learning your behavior over time. But now, Nest thermostats have a sleeker design with an even more intuitive thermostat.
The biggest reason why Nest is better than the rest? The Nest thermostat is by far the most compatible with our other favorite HVAC system: heat pumps!
Heat pumps keep your home cool in the summer, but they also keep your home warm in the winter by moving outdoor heat in.
They also dehumidify and filter the air year-round. Plus? They warm and cool a home three times more efficiently than traditional HVAC systems.
The Google Nest thermostat and heat pumps are like peanut butter and jelly—a great team! Nest thermostats pair so easily with heat pumps that they even have a Heat Pump Balance setting.
In need of an HVAC upgrade? See if you qualify for a brand-new energy-efficient heat pump at no upfront cost to you—and get a Nest thermostat, while you're at it!
Heat pumps warm and cool a home 3x more efficiently than traditional HVAC systems.
How to get a smart thermostat (and at no upfront cost, too!)
Get a smart thermostat a few different ways.
Check for utility rebates and deals.
Buy a smart thermostat the old-fashioned way—at a store or online! Then install it yourself and hope the DIY route was a good call.
Or… you may be able to get a smart thermostat—along with other essential home energy upgrades—installed at no upfront cost to you when you work with Sealed. (No really, it's possible.)
Here at Sealed, our success is tied to cutting your energy waste, so we go the extra mile to make sure your house is better for your family and the planet.
We don't just set you up with customized smart home technology, air sealing, insulation, and heat pump upgrades. We match you to a contractor, coordinate all the work, and cover the upfront costs so that you can focus on staying comfortable at home.
No need to wait. Get the comfortable home you deserve.
See if your home qualifies.