The best way to pay for a new furnace is up to you. But the best furnace replacement is definitely a heat pump.
Staring down the barrel of a furnace replacement—and not sure how you're going to handle the cost?
We get it. The cost of a new furnace isn't exactly pocket change, and finding out you need one pronto can be a real gut punch.
But no worries. We've got your back.
We've managed a lot of home heating system replacements here at Sealed, and we're going to guide you through the maze of payment options for your furnace replacement, including some you might not even know exist.
But before we dig in: There's something important you need to know.
In this guide:
Learn how to make your older home feel new again with powerful home efficiency and comfort tips from the experts at Sealed.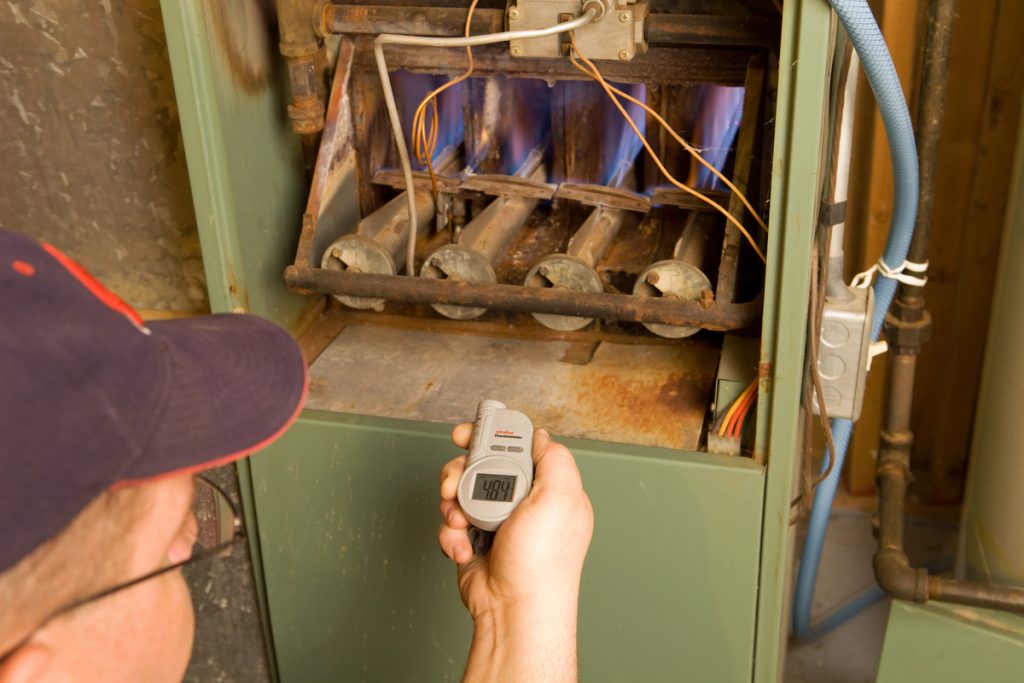 How much does a new furnace cost?
What's the price tag on a furnace replacement?
The average cost of swapping out your old furnace for a shiny new one could set you back anywhere from $2,000 to over $10,000. This depends on factors like the size of your home, the brand of the furnace, type of thermostat, and how complex the installation process is (1).
And remember, that's just for the furnace itself—we're not even talking about any ductwork repairs, a fresh cooling system, or work needed to seal air leaks or insulate your home (if necessary).
Feeling a bit queasy at the thought? You're in good company. Recent surveys reveal that a significant number of homeowners across the U.S. are putting off much-needed upgrades because of the steep costs (2). And we'd definitely argue that a fully functioning and efficient air conditioning system and heating system are much needed.
But here's the silver lining—you might not need to postpone that home heating system replacement after all, because more payment options are available than you'd probably guess.
(Plus, before you make this big investment, we highly recommend you consider a heat pump instead of a furnace. They're up to 3 times more efficient than conventional HVAC systems. Read more in our heat pump vs. furnace guide.)
A furnace isn't the most efficient way to heat your home—a heat pump is.
Can you finance a furnace with a furnace payment plan?
If you're wondering if there are furnace payment plans out there—yes, definitely. Many homeowners choose to finance a furnace replacement and installation costs, paying for the work via monthly payments over time.
When thinking through your HVAC options, an energy-efficient system is crucial (since the cost of energy just keeps on rising). Special financing, a loan, a home energy upgrade program—like Sealed—or an HVAC financing payment plan can help cover the extra costs of energy-efficient HVAC units.
And if you choose to upgrade your HVAC with Sealed, we'll do all the energy upgrade rebate and tax credit research for you. That way, you know exactly what your home improvement is eligible for.
[Sealed] has a fantastic business plan to assist homeowners to depart from oil and gas heating systems and into the future of highly efficient HVAC electric systems. I highly recommend… Sealed as a company.

Piper B., Sealed customer
What's the best home heating system?
When it's time to replace your furnace, you have a lot of options to sift through. But hands-down, heat pumps are the future of home heating and cooling. They're the most efficient way to keep your home comfortable year round.
And in 2022, heat pumps surpassed U.S. furnace sales for the first time in history. Soon, home furnaces will be dinosaurs of the past, much like a nonfunctioning radiator in the living room of an old apartment.

(And yes, heat pumps both heat your home in winter and cool your home in summer. So you can upgrade your two systems at the same time with one appliance—a heat pump is both a heating system and an air conditioner. They're also absolute experts at dehumidifying when your house feels too humid.)
You can read all about heat pumps here, but here are a few reasons you should consider a heat pump upgrade over a furnace replacement:
Heat pumps are up to 3x more efficient than conventional heating systems and can reduce up to 50% of your energy use for heating (3, 4).
81% say their home comfort has improved by replacing their fossil fuel heaters with heat pumps (5).
Heat pumps are 2 powerful systems in one: air conditioning and home heating (which means less HVAC maintenance!).
Home buyers pay a premium for houses that have upgraded to air-source heat pumps—up to $17,000 more on average (6).
You'll have better home air quality because heat pumps run on electricity: Gas furnaces burn more natural gas than stoves, which means they also leak more pollutants if not properly maintained or ventilated (7).
In 80% of the homes studied in one report, electric heat pumps saved money over the life of the system compared to homes with gas furnaces (8).
Okay, now that we got the nerdy but necessary energy-efficient home heating facts out of the way, let's dig into how to pay for your furnace replacement—no matter what system you end up choosing.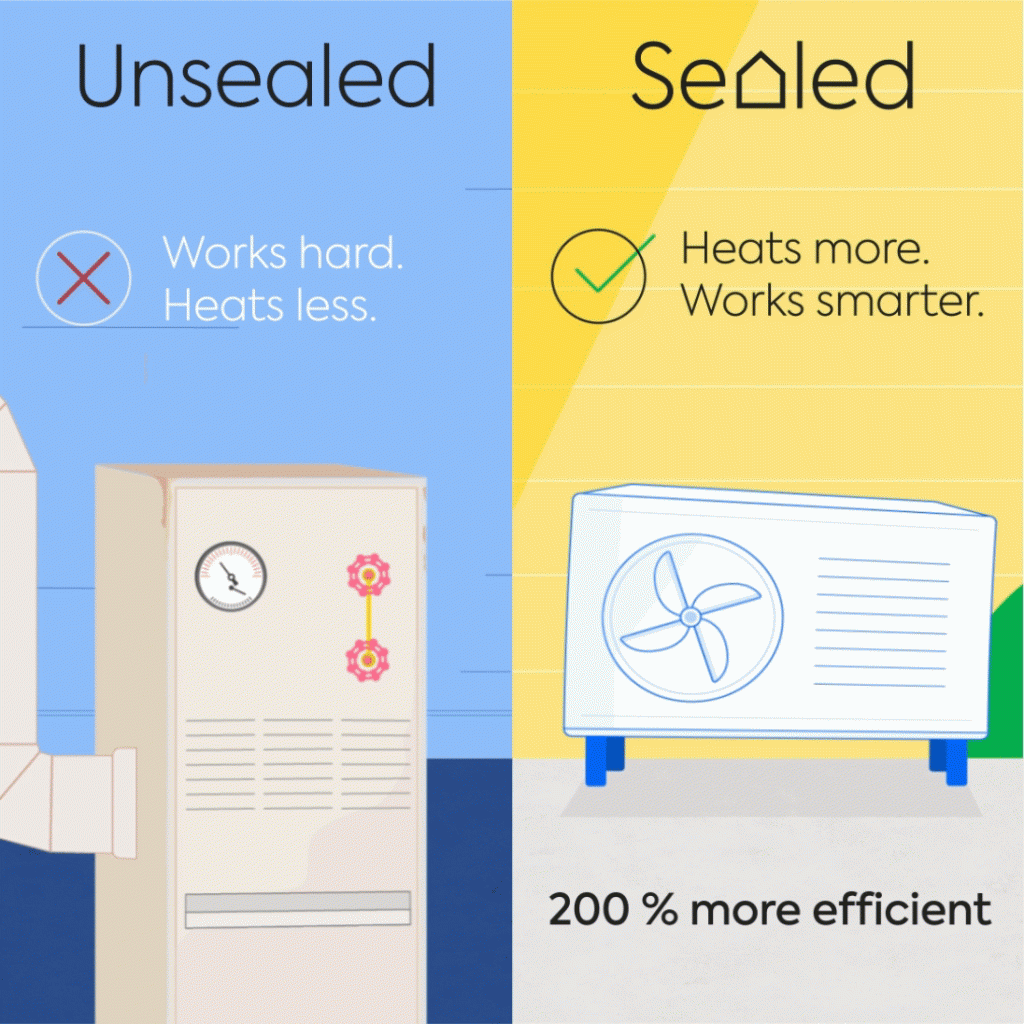 Soon, home furnaces will be dinosaurs of the past, much like a nonfunctioning radiator in the living room of an old apartment.
How to pay for a furnace replacement
You can cover the cost of a new furnace replacement using various methods, but click here to jump straight to the optimal way to finance a new HVAC system (according to our expert opinion, of course!).
Let's go over each one.
Use cash
This might be the most straightforward way to pay for a new furnace, but it requires dipping into a significant amount of money in your savings account.
It's a particularly unattractive option if you had other plans for that money... you know, like shoring up your emergency fund, investing in college or retirement, paying off a car, or building a secret underground lair for your evil alter ego.
Get a loan
Loans come in all shapes and sizes, including some you might not have even thought of. Determining the right type of loan is going to be a personal decision (or one you should consult with your financial advisor about) that largely depends on your preferences and credit score.
But let's break down a few of the most popular ways to bankroll your new heating system:
The number one thing to remember: Shop around to determine what loan offers or loan programs might be best for you and your situation. Make sure you look very carefully at any and all loan terms before you sign, especially any information about: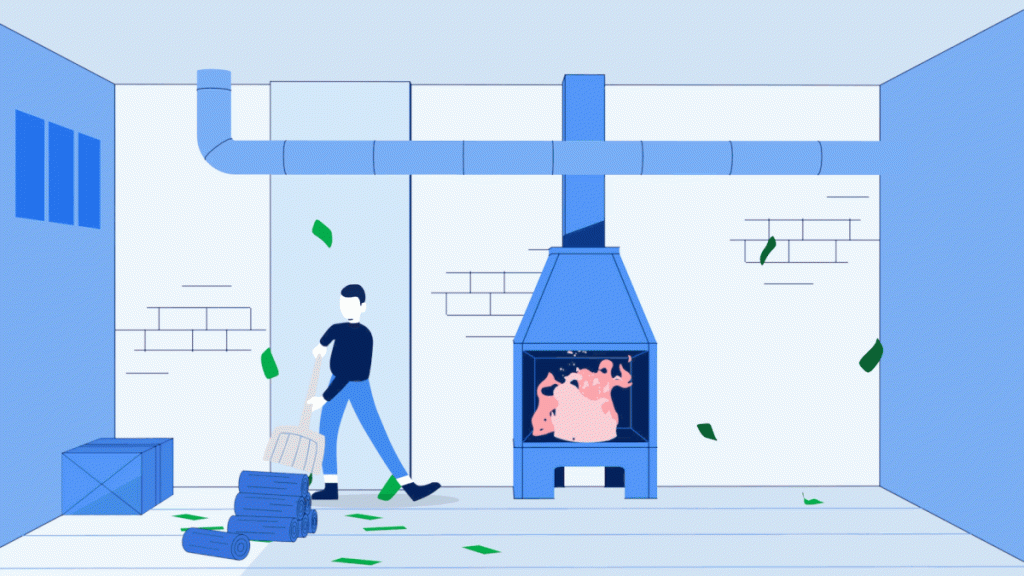 Personal loan
Plenty of personal loan options are out there if you need to get funds for an HVAC replacement, pronto. (And when we say personal loan, we don't mean borrowing from in-laws, but that's an option too—if you're brave enough to go that route.)
As far as personal loans go, if your credit score is looking pretty sharp, you've got a good shot at negotiating a decent rate. But beware—if your credit score is a little under the weather or if you have a low credit score, you could be staring down the barrel of a whopping 36% APR.
Home equity loan or home equity line of credit
Home equity loans usually come with lower interest rates, which is always a win.
But don't forget, these loans are tied to the value of your house. So you'll need to be okay with this setup and have enough equity in your home to qualify.
What about a HELOC? Well, a home equity line of credit is similar to a home equity loan in that they're both borrowed against your equity. But the line of credit allows you to borrow multiple times up to a certain amount (kind of like a credit card), compared to a finite set amount under a home equity loan, and you only pay interest on the money you borrow under the line of credit.
Keep in mind though, a HELOC uses your house as the collateral (9). For some, that might be worth a new air conditioner or heater, while other homeowners might not be as comfortable with this type of HVAC financing.
FHA Title I loan
FHA Title I government-backed loans can be used as home improvement loans. In fact, they can help pay for anything that "substantially protects or enhances the basic livability or utility" of your home, according to the Department of Housing and Urban Development (10).
You'll need to go through an application process to determine if you qualify.
And yes, HVAC replacements absolutely make the cut! Just keep in mind that the maximum loan amount for a single-family home is $25,000.
Use contractor-provided financing
Some HVAC contractors or HVAC companies offer payment plans that let you spread the cost of your home heating system replacement and installation over a period of time—like a furnace payment plan, of sorts.
But before you put pen to paper, it's crucial to give that contract a good, hard look.
Believe us, it'll be worth your while to make sure you're snagging the best furnace financing arrangement possible. You also want to ensure that you're getting all the local and federal rebates you may qualify for—and there may even be special rebates from your utility company. (If you work with Sealed, we'll do this for you.)
Plus, you want to be absolutely certain that the work is covered by some sort of warranty. Not everyone stands by their work, unfortunately!
Charge it to your credit card
Credit cards often become the knight in shining armor during a financial crunch for many. But beware, this rescue mission can come with a hefty price tag if the credit card has a high interest rate.
So if you're leaning toward this approach, be smart about picking your card. And without a doubt, have a strategy ready to wipe out the debt before it snowballs.
Go for an HVAC upgrade program
Last, but certainly not least, think about joining a HVAC upgrade program like Sealed.
Wondering how the Sealed program operates?
If you opt for Sealed for your new HVAC system (a beautiful, powerful, energy-efficient heat pump!), you pick the way to pay that's best for you and your budget with flexible payment options—including no upfront cost if that's your preference. Love paying cash? You can do that, too.
(One major benefit? Our energy-savings guarantee. Your new heat pump HVAC system is guaranteed to save you energy—or we'll cut you a check.)
Plus, we'll make sure you're aware of all the rebates—federal and local—that may apply for your project. And if your house needs insulation and air sealing, we do that, too.
Find out if you qualify for Sealed and get a quote.
I wouldn't hesitate to recommend Sealed for HVAC and insulation upgrades. If you're looking to take on a large efficiency project for your home without the large upfront cost, Sealed is worth a look.

Matt R., Sealed customer