If homeowners insurance won't pay for an AC replacement, there are other ways to make it happen without draining your bank account.
Homeowners insurance is a bit of a tricky topic. Many homeowners think of it as an amorphous blob of financial protection—some sort of magical shield against expensive repairs like AC unit malfunctions.
After all, when something happens, you just call your insurance agent and get a check, right?
Well—not quite. Home insurance coverage for AC units isn't a given. And if you've owned a home for a while, you know that homeowners insurance policies can be extremely complicated.
Luckily, here at Sealed we know what it takes to get an AC replacement—and we've parsed the paperwork on how to deal with them. Depending on where you live, you could get a brand-new heat pump HVAC system—eligible rebates included—at zero upfront cost. Tap here to see if you qualify.
After reading this article, you'll have a good idea about whether you're eligible for insurance reimbursement. And—probably more usefully—you'll also know the best ways to finance your AC replacement if insurance doesn't come through for you. (Don't panic, because you definitely have options.)
Table of contents: Homeowners coverage for AC units
Key points:
Sometimes your AC replacement is covered by homeowners insurance, and sometimes it's not. It all depends on which coverages you purchased, the company you purchased them from, and if it was damaged in a "covered peril."
If it's not covered by your homeowners insurance policy, there are many ways to pay for an AC replacement. Depending where you live, some programs will install home upgrades for $0 upfront. Learn more.
If you need to replace your AC unit, the most energy-efficient option is a heat pump HVAC system—and because energy efficiency is such a good thing, lots of heat pump tax credits and rebates are available to incentivize you to make the upgrade.
Depending on where you live, you could get a brand-new heat pump HVAC system—eligible rebates included—at zero upfront cost.
Will my homeowners insurance cover my AC unit?
First, let's tackle the big question: Does homeowners insurance cover air conditioner replacement?
The answer, like many things in life: It depends. More specifically, it depends on why your AC unit isn't working. To understand why that's important, let's talk a little about homeowners insurance itself.
Homeowners insurance is intended to cover you financially if something sudden and unexpected happens that causes damage to your house.
Homeowners insurance is intended to cover you financially if something sudden and unexpected happens that causes damage to your house.
Pretty simple, right? Well… the jargon can get a little complex, so let's break it down.
In insurance terms, that "something sudden" is called a covered peril—which sounds intriguing and cool, like something from a superhero movie or thriller novel. But it's annoying when you're not sure if your insurance company will cough up the cash for a new HVAC.
So let's dig into what "a covered peril" means.
Does home insurance cover AC? Yes—in certain circumstances.
Your homeowners insurance will cover your AC replacement if—and only if—your AC was damaged by a covered peril. Now, the covered perils that apply to your situation can differ widely depending on the coverage you purchased.
Here, we must clarify—definitively and emphatically—that we, at Sealed, cannot tell if your AC is covered or not. Your insurance company is the only entity that can. (So ask your insurance company!)
Anyway, here are some common covered perils that might get you a payout to help replace your AC: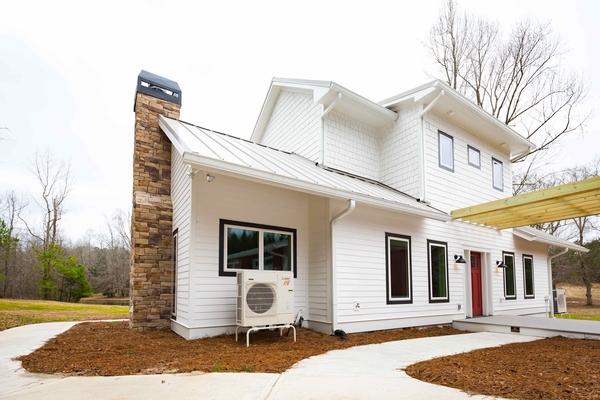 Lightning damage
Windstorm damage
Hail damage
Explosions (hopefully you replaced that gas furnace)
Falling objects (like tree branches)
Fire and smoke damage
Theft and/or vandalism
The common denominator here? Covered perils tend to be sudden, unexpected problems caused by something external.
If a tree falls on your house and somehow takes out your AC, for example, your insurance will likely cover it. Or if a fire destroys your air conditioning system, you could get a payout there.
Even then, the situation is a little bit murky. It's important to note that not all perils are covered by homeowners insurance. For example, flood damage is not typically covered by homeowners insurance policies and requires a separate flood insurance policy (1).
Additionally, some policies may exclude certain types of damage from coverage—even if those damages were caused by an event that would be considered covered (2).
(So if your insurance policy says that parts of your home are covered in the event of a stormtrooper attack, it may not cover certain kinds of damage from that stormtrooper attack.)
If your insurance policy says that parts of your home are covered in the event of a stormtrooper attack, it may not cover certain kinds of damage from that stormtrooper attack.
Moral of the story: Make sure you read through your policy carefully.
So at its core, homeowners insurance is designed to cover sudden, drastic events.
But what about the more mundane events? The ones that don't involve a dramatic lightning strike or a raging fire (or stormtroopers!)?
Does home insurance cover AC units? Here's when the answer is no.
Here are the AC-related perils that homeowners insurance typically doesn't cover:
Let's take a closer look at each one below.
1. Normal wear and tear
This is the big one! If your AC stops working because it's too old, has been overworked, or just because it felt like it—your insurance almost certainly won't cover the replacement. Sorry to be the bearer of bad news.
2. Neglect or failure to maintain the AC
If you didn't take proper care of your AC—and it voices its displeasure by kicking the bucket—you're not likely to get a payout (unless, you know, it was struck by lightning at the exact same moment).
By the way, if your air conditioning system is still operational right now, this might be a good moment to go clean your AC's coils to keep it in tip-top shape.
3. Damage caused by a peril that's NOT listed in your policy
Just because a damaging event is sudden and unexpected doesn't mean it's a covered peril. Damage caused by a rogue squirrel party in your outside AC unit, for example, would likely not be covered by your policy.
Also, homeowners insurance won't cover other common AC issues, such as when your AC is running constantly or when it's wasting tons of energy or when it's unsuccessful in clearing excess humidity from your home.
Essentially: Unless your AC is damaged suddenly for a clearly covered reason, your insurance company will likely tell you it's your responsibility to come up with the funds for the replacement.
Which means that most of the reasons that you might need an AC upgrade are reasons that insurance just won't cover.
And that leaves you on the financial hook to cover AC replacement costs out-of-pocket.
Or does it?
What to do if your homeowners insurance policy does NOT cover AC?
We actually have good news here: You have options.
You can manage the sudden cost of an AC replacement in several ways, and we're about to go through the most common ones here.
But first, a quick, important note: Before you do any of the following, take 15 minutes to get your record-keeping system in order so that you can successfully apply for the new home energy upgrade tax credits.
If you haven't read up on the subject yet (we don't blame you), the new Inflation Reduction Act tax credits can significantly lower the cost of your HVAC upgrade.
But to apply for these financial benefits, you and your accountant need to have all the records and receipts for everything you (or your contractors) purchase and install.
In short? Get organized. Save everything. You'll thank yourself later.
The best things in life are free—like the Sealed newsletter. Get home maintenance tips and energy rebate news each month.

Okay! Now, let's talk about your payment options.
How to pay for an AC upgrade if homeowners doesn't cover it
Let's cover each of your options.
1. Pay out of pocket
This is the most straightforward choice, obviously. And probably also the least pleasant! If you're curious what it might cost to pay for new central air conditioning, check out our guide to how long AC units last.
2. Get a loan
There are all kinds of ways to get a loan, so here are a few of the most prominent.
Personal loan: Plenty of personal loan programs are out there if you need quick cash for an HVAC replacement. And if you've got excellent credit, you'll probably be able to negotiate a good rate—though be forewarned: If your credit isn't great, your APR could be as high as 36% (3).
Home equity loan: Home equity loans generally have lower interest rates—but keep in mind that they're secured by the value of your home, so you'll need to be comfortable with that idea (not everyone is) and have enough equity to be eligible.
FHA Title I loan: If you qualify for one of these government-backed loans, you can spend it on whatever makes your home "basically more livable and useful"—according to the Department of Housing and Urban Development. HVAC definitely qualifies! Note that the maximum loan amount here is up to $25,000 on a single family home (4, 5).
3. Financing through your contractor:
Some contractors offer payment plans that allow you to pay off your AC slowly. Here, though, you'll want to be very sure you vet the contractor well—and look carefully at the paperwork to be sure you're getting the best financial deal.
(Read: How to stay cool on a hot day without AC)
4. Put the upgrades on a credit card
Credit cards are often seen as the easiest way to address an emergency. However, this can be an incredibly expensive option if it's on a credit card with a high interest rate. If you do use this method, be judicious about which card you use—and make sure you have a plan to pay it off so the debt doesn't barrel out of control.
5. Enroll in an HVAC upgrade program
Finally, you might consider an HVAC upgrade program like Sealed.
How does it work? Basically, if you get your air conditioner upgraded through a program like Sealed, you'll pay for it over time—like a loan.
But the Sealed payment program is much different than a loan for a few reasons:
No stress. Sealed will manage your entire upgrade project from beginning to end—and we'll make sure you get everything you need (air sealing and insulation upgrades, for example) to make your home feel amazing. We'll hire all the contractors. We'll oversee the work. It's pretty great.
Accountability. Sealed shoulders the risk so you don't have to. We're so confident in our energy performance methodology, we offer a money-back guarantee.
Results. You'll get the best HVAC on the market. We install top-of-the-line HVAC equipment—including modern air source heat pumps that can cool and heat your house. A true life upgrade. (There's lots more to say here! Таp here to learn more about why whole-home heat pumps cool your home for a lot less energy or watch the quick video below.)
I felt comfortable going through the quote process with Sealed…. I was impressed with the level of details, the total itemized cost, and the creative repayment plan.

Cesar O., Sealed Customer
Basically: If you're someone who just wants to get the problem taken care of by experts without a huge financial hit—and get all the eligible federal and local rebates for home energy upgrades—well, we think you'll like Sealed.
Interested? Here's how to see if you qualify.
Need an energy-efficient AC upgrade—without the upfront cost? Meet Sealed.
If you've had it with your AC issues, consider turning the project over to us at Sealed.
Seriously. We're nerds about this stuff—as well as experts at making your house feel amazing. Even better: You can get the whole project done with NO upfront cost, if your house is eligible.
Ready to see if your house qualifies? You can find out in about 3 minutes or less.