Find out the best ways to pay for a super-efficient heat pump upgrade.
Ready to join the heat pump revolution? Or is your current system on its last leg and it's time for an upgrade?
Purchasing a heat pump is a major home upgrade (and a major financial decision), and finding out you need a new HVAC system pronto can make your heart skip a beat.
Take a deep breath. We've got your back
We're Sealed, the heat pump experts—and we've installed plenty of them. So we know a thing or two about payment options and available rebates—including a few potential financing methods you may not have heard of.
So whether you're ready to join the heat pump revolution for the first time or you simply need to replace an older unit, there are plenty of ways to finance your new super-efficient heat pump replacement. (Including getting an expertly installed heat pump—eligible rebates included—with flexible payment options and a guarantee with Sealed. See if you qualify.)
Ready to jump in?
A newsletter for homeowners filled with actual, actionable solutions for uncomfortable, inefficient houses.
Can you finance a new heat pump?
Yes! Good news: You can finance a new heat pump HVAC system installation if you'd rather not pay for it upfront.
Even better news: Heat pump rebates and tax credits can help offset the costs, which would lower the overall amount you'd need to borrow for your project.
Now, if you'd rather go to the dentist than figure out which rebates and tax credits you're eligible for (no offense, dentists!), working with Sealed will make your life a whole lot easier. We make the whole process hassle free and will even do rebate research on your behalf.
We'll talk through more of this below, but there are a few different ways to pay for a custom heat pump upgrade.
But with any of the financing options just make sure to research interest rates, loan terms (and even heat pump rebates and tax credits if you don't work with Sealed) before you make your final decision on a lender.
Before we get into those details, let's get down to the nitty-gritty on cost.
How much does a new heat pump cost?
Okay, let's talk heat pump costs. An expertly-installed heat pump system that's customized for your home's unique needs could cost anywhere between $3,500 to $70,000—or more, depending on the type of equipment installed (1, 2).
If this price point seems like a large range, we'll cover why below. And if you're wincing, you're not alone. Recent polls reveal that a ton of homeowners across the US are putting off necessary upgrades due to hefty price tags (3).
The silver lining here, though, is that there's a solid chance you might not need to hit the pause button, because there are more ways to foot the bill for a heat pump installation than you could shake a stick at.
But back to heat pump costs—they vary widely based on several factors (4):
The size of your home
Brand and type of the heat pump
Ductwork repair or installation
The installation process itself
Financing fees/interest
If you're still having sticker shock, let's explore two other reasons that this heat pump price range seems higher than others you've come across on the internet.
Heat pumps work like air conditioners, but it's as if they went to graduate school for advanced degrees—because they can heat your home too.
Why is this average cost range higher than others on the internet?
If these heat pump costs look higher than other numbers you've seen across the web, there's a good reason (well, a few actually):
Heat pumps are two appliances in one.

It's both a heating and cooling system. When you upgrade your home to a heat pump system, you're upgrading your whole HVAC system at one time. Plus, they're the best and most efficient HVAC technology available—but that's also why so many heat pump tax credits and rebates are available, too.

You're not just buying the appliance.

You're also paying for labor. Many of the heat pump cost ranges available online are for the appliance only and don't include any installation costs or repairs. Most homeowners don't realize they have air leaks throughout their existing HVAC ductwork that may need repairs before a new system is installed. And some houses need additional insulation or air sealing upgrades to increase the lifespan of their heat pump.

And you definitely want heat pump experts to do this installation job. Why? Check out Bad HVAC installs: Improper heat pump installation to find out.

Pre-inflation prices are prevalent. 

A great majority of the information available online about heat pump costs is based on pre-inflation numbers.

The range above ($3,500 to $70,000) is based on 2022-2023 numbers and the cost of installation by heat pump experts. The truth is, an incorrectly installed heat pump can cause big problems (and lots of repair costs) down the road.

Because so many things influence the cost of heat pump installation, ask a professional to quote the total install (including any needed ductwork repairs or duct sealing) so you get the most accurate price estimate.

Sealed is happy to help with this, and our advice is always free. Tap here to see if your home is eligible for a home assessment.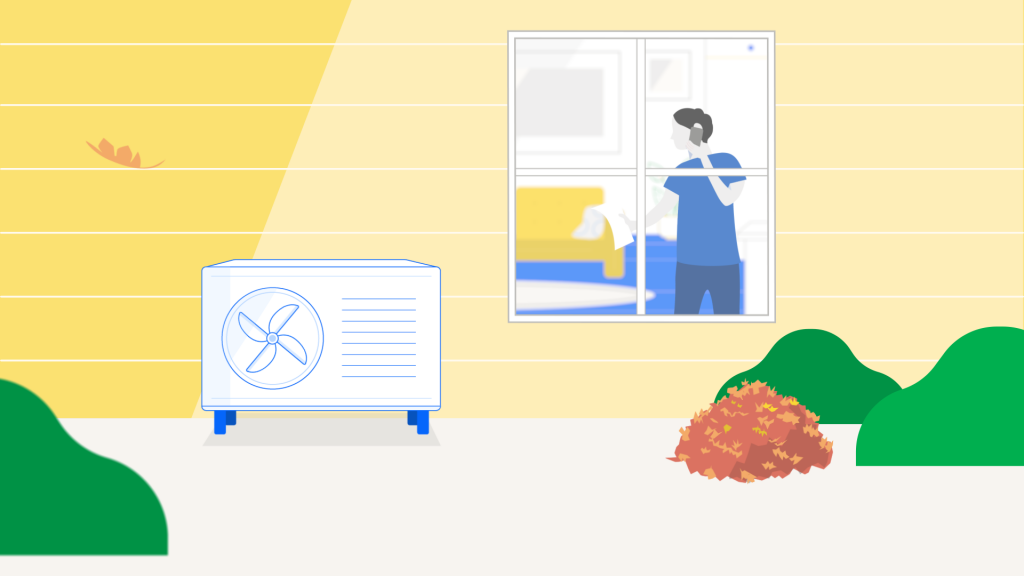 Do heat pumps pay for themselves?
In our experience, with the right home energy upgrades (including a heat pump!), we've seen homeowners cut their energy waste by up to 50%.
While we wouldn't go so far to claim that heat pumps practically pay for themselves, they are the most energy efficient way to heat and cool your home. In one report, 80% of homes studied showed electric heat pumps saved money over the life of the system compared to homes with gas furnaces (5). That's a big deal.
Plus, cutting your home's energy waste is a smart way to combat rising energy costs over time. And heat pumps do just that.
A new study shows modern heat pumps are not only reliable in cold weather, but also outperform fossil-fuel heating in the cold.

Canary Media
Is it worth it to install a heat pump?
Absolutely! Installing a heat pump is a decision that brings a plethora of benefits, making it worth every penny. Here's why:
Efficiency: Heat pumps operate on electricity and are renowned for their efficiency. They can deliver 1.5 to 3 times more heat energy to a home than the electrical energy they consume, making them a superior option for energy-conscious homeowners. (Read more about how heat pumps stack up next to traditional furnaces.)

Comfort: Heat pumps provide consistent and even heat distribution throughout your home, eliminating cold spots and enhancing comfort. (This is especially true if you go with a ductless mini-split heat pump with zone-by-zone cooling.)

Health: Because heat pumps run on electricity instead of noxious fossil fuels, you can rest assured that your family is at NO risk of carbon monoxide poisoning with a heat pump. And as an added bonus, heat pumps can actually improve indoor air quality by reducing excess moisture levels—preventing mold growth—and filtering allergens, which creates a healthier living environment.

Cost savings: While the upfront cost of a heat pump can be daunting at first, the energy savings over time can help offset this initial expense, leading to long-term financial benefits. (And don't forget: Thanks to the Inflation Reduction Act, you might be eligible for some serious energy upgrade tax credits and rebates.)
So investing in a heat pump is not just about the heat, it's about elevating the comfort, health, and sustainability of your home while saving on energy bills.
(Want to know just about everything about these super stars of the HVAC world? Tap on over to The Ultimate Guide to Heat Pumps.)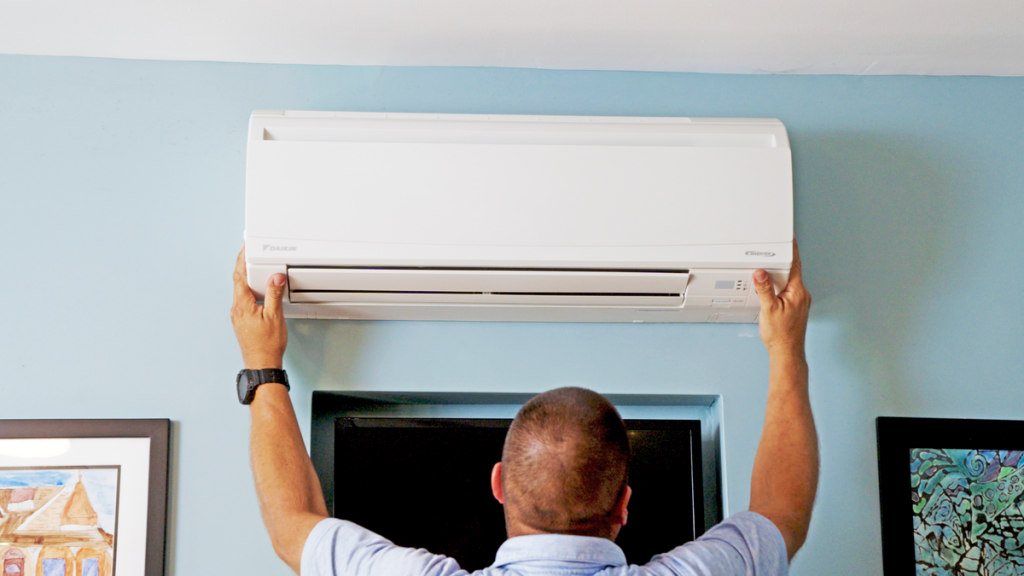 How to pay for a new heat pump
There are a bunch of different ways to finance your heat pump installation:
Let's look at each one below:
Pay with cash

We had to mention this method. It's undoubtedly the simplest option, assuming you have the financial resources, but it may not be the most attractive choice for everyone.

Paying with cash becomes particularly unattractive if you had intended to allocate those funds elsewhere, such as towards a well-deserved getaway, a kitchen renovation, childcare expenses, or constructing a full-scale replica of the Batmobile in your garage.
Get a loan

When it comes to borrowing money for a new heat pump, various loan options are available that you may not have considered:
Personal loan. If you have excellent credit, you can negotiate with your lending institution for a favorable interest rate. If your credit score isn't ideal, though, be prepared for a potentially higher APR, possibly reaching up to 36%. (Yikes!)
Home equity loan. Home equity loans generally offer lower interest rates. But keep in mind these loans are secured by your home's value, so you should be comfortable with this arrangement and have sufficient equity to qualify.
FHA Title I loan. These loans, backed by the government, can be used for anything that substantially improves the basic livability or utility of your home, according to the Department of Housing and Urban Development (6). HVAC replacements are definitely covered! It's important to note that the maximum loan amount for a single-family home is $25,000.
Thinking about a HELOC? A home equity line of credit is a first cousin to a home equity loan. Both are borrowed against your home's existing equity. However, with a line of credit, homeowners can borrow multiple times up to a certain amount, similar to a credit card (which we'll cover next).
Charge the upgrades to a credit card

Credit cards are often the first choice when facing emergencies. But beware, this approach can become quite expensive if your card has a high interest rate.

If you opt for this method, make sure to choose your card wisely and have a solid plan in place to pay off the debt before it becomes unmanageable. And definitely choose your card strategically, so you can benefit off points!
Finance through your contractor

Some contractors offer their own financing options or partner with credit providers to assist customers with the costs of installation. These plans can often be customized to fit your budget, providing an easy path to get your heat pump installed without a huge out-of-pocket expense.

It's key to understand the terms of your agreement fully, including interest rates and any potential penalties for late or missed payments. (Not sure what to do? Consult with a financial advisor to ensure you're making the most informed decision.)

And make sure you have some kind of guarantee on the actual installation, too. You don't want to be stuck with a payment on work that didn't…well, work.
Go for a heat pump upgrade program

Last but not least, consider partnering with Sealed, a home energy upgrade program that specializes in energy-efficient improvements—like heat pumps!

Curious about how it works?

When you choose Sealed for your new heat pump system, you get to select the payment method that suits your budget, including the option of no upfront cost. Plus, we offer flexible payment options, so you can even pay in cash if you prefer.

And here's a major perk: If you qualify for our energy-savings guarantee, your new heat pump HVAC system is guaranteed to save you energy, or we'll cut you a check.

Yep, you read that right.
Sealed's installer took his time to ensure that my [upgrade] was approved with the lowest possible price and completed in a timely manner.

Cynthia B., Sealed customer
How is heat pump installation through Sealed different?
Zero stress
Sealed will take care of your entire heat pump project, from start to finish.
We'll make sure you have everything you need to make your home feel amazing: from a customized heat pump installation that's tailored to your home to air sealing and insulation upgrades if you need them.
We work to get you competitive project costs from our top-rated contractors, and then you get any available rebates you're eligible for to reduce the overall cost.
We partner with the best of the best installers in your area (and carefully vet them)—and for a very good reason.
Accountability
We're so confident in our energy-performance methodology and the experts we use to install your custom home energy upgrades that we offer an energy-savings guarantee.
You can rest easy, knowing your project is going to do exactly what it's designed to: cut your energy waste and make your home more comfortable year round.
If the work doesn't reduce your home's energy use, and your project qualifies for our guarantee, we'll make it right.
Results
Get ready to experience the finest and most efficient type of HVAC system on the market: heat pumps!
Our team will install cutting-edge HVAC equipment, featuring an air-source heat pump that both cools and heats your home. It's a true game-changer, bringing a whole new level of comfort to your life.
Financial flexibility
Choose a payment plan that works for your budget. Or… pay with cash or credit card. We have partnered with trusted, transparent lenders that we can recommend—but how you pay is up to you.
In a nutshell: If you're looking to get a high-performance heat pump upgrade—without breaking the bank—Sealed could be the perfect solution for you.
With Sealed, you can rest easy, knowing your project is going to do exactly what it's designed to: cut your energy waste and make your home more comfortable year round.